Magic is something a 
Vulpin
 can use to damage any
Monsters
 that oppose it.
Monsters
, however, can also utilize Abilities to deplete a Vulpin's Health Points or to heal themselves. The vast majority of Magic require Mana Points to use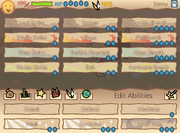 Almost every ability is assigned a Type, which determines what monsters are sensitive to or resist it. Some abilities, however, are not damaging and instead benefit the
Vulpin
that uses them directly.
Collecting all of the possible Abilities for their Vulpin to use grants the player an Achievement.
Ad blocker interference detected!
Wikia is a free-to-use site that makes money from advertising. We have a modified experience for viewers using ad blockers

Wikia is not accessible if you've made further modifications. Remove the custom ad blocker rule(s) and the page will load as expected.